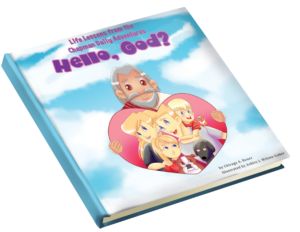 Life Lessons from the Chapman Daily Adventures: "Hello, God?"
In this first "Life Lesson," you are introduced to the Chapman Family… Mr. and Mrs. Chapman, their five-year-old son, Daniel, and their ten-year-old daughter, Grace, as well as their many lovable family pets. In this book, Daniel asks Mr. and Mrs. Chapman some pretty important questions and… of course, it's at bedtime.
BEHIND THE LESSON — Life Lessons from the Chapman Daily Adventures: "Hello, God?"
What better way to start a journey than the only place it can start… the beginning. In Genesis Chapters One and Two of the Bible, it teaches us who we are and where we came from. God created the sky, the land and sea, the sun and the moon and the stars, day and night… He created all the creatures from the teeny tiniest to the most gigantic, and then He created us. Yes, we were created, not by accident, but absolutely on Purpose. The best part is that God created it all so that He could love us and have a relationship with us. It is because of His Perfect Love for us that we have the ability to love others. "We love because He first loved us." – 1 John 4:19. God's Unfailing Love started it all. Isn't it exciting to know that you are a part of His Plan? You can make a difference. You will make a difference by instilling in our youth what it truly means to be a "Child of God." I am so grateful that you are joining me on this journey, and that you are taking an active part in inspiring and encouraging our children. 🙂
Life Lessons from the Chapman Daily Adventures:  "Finding Butter"
In this second "Life Lesson," with the help of Mrs. Chapman, Daniel and Grace learn about compassion and how even a small act of kindness can make the biggest difference to others.
BEHIND THE LESSON — Life Lessons from the Chapman Daily Adventures: "Finding Butter"
What comes to mind when you hear or think about the word, compassion? Compassion is defined by Webster's Dictionary as, "sympathetic consciousness of others." I believe that compassion for others starts by loving one's self… not in a self-centered, imbalanced sort of way, but in the way God loves and sees us. If we love and respect ourselves, we can love and respect others. This confidence comes to us by knowing who we are in God's eyes. So, just who are we in God's eyes?
Knowing and understanding that answer is very important for all of us.. Many places in the Bible teach us about God's Love for us. For example, John 3:16 KJV says, "For God so loved the world that He gave His only begotten son, that whosoever believes in Him shall not perish, but have everlasting life." You see. To put it very simply… we are imperfect, and we sin. Our sins, either big or small, separate us from God. Jesus, who is God in human form, was sent to walk the earth. He experienced life as a human, but He remained perfect with no sin. The only way for God to bridge the gap between Himself and all of us was to send perfect Jesus to take upon Him all of our sins. Jesus paid for all of our sins by dying on the cross. He saved us. He paid our debt. That is how much God loves us! When we think about how much love, mercy, and compassion God has for us, we use Jesus' Perfect Example to guide us in our relationships with ourselves and with others.
As the Apostle Paul wrote in Ephesians 2:10 NIV, "For we are God's workmanship, created in Christ Jesus to do good works, which God prepared in advance for us to do." We are a masterpiece, a work of art! If we are all God's works of art, then we are all valuable and should be treated with love, compassion, and respect. So, when we go through our days, let's be a shining representative of God and demonstrate Christ's Compassion and Love. Have you heard the saying, "Actions speak louder than words?" Let's show our children how to love themselves, so they, in turn, can love others. 🙂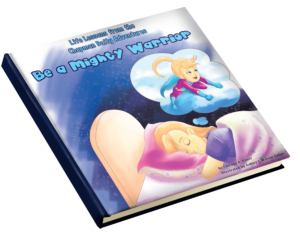 Life Lessons from the Chapman Daily Adventures: "Be a Mighty Warrior"
In this third "Life Lesson," Grace demonstrates her confidence to act in Love. She shows Daniel, their friends, and even some new kids how to use that confidence by remaining calm, standing firm, and taking action.
BEHIND THE LESSON — Life Lessons from the Chapman Daily Adventures: "Be a Mighty Warrior"
Everyone wants to make a difference in this world… even our kids! One thing that we all know is that it takes confidence to act in love. It is not enough to say we care. We have to have the confidence to do something to show that we care. The call to action is absolutely necessary.
We can love and care; we can be confident in God's Love for us; but without action, we cannot show His Love. The Lord calls us to action… "Blessed are the peacemakers, for they will be called the children of God." (Matthew 5:9 NIV) Simply "Do unto others as you would have them do unto you." (Luke 6:31 NIV)
Let's empower our children with the knowledge of God's Love for them. Teach them to love God, and to show His Love confidently through their actions… Being God's representatives…  His Mighty Warriors right here on earth. 🙂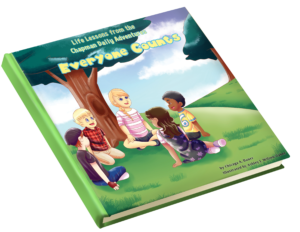 Coming Soon
Life Lessons from the Chapman Daily Adventures: "Everyone Counts"
In this fourth "Life Lesson," Daniel, Grace, and their friends learn about self-esteem and come to understand how everyone has unique gifts and talents. Everyone has an important role to play… Everyone Counts.
BEHIND THE LESSON — Life Lessons from the Chapman Daily Adventures: "Everyone Counts"
I am often surprised by what I observe about many people around me. What I notice is that people often don't realize just how important they are. Self-esteem seems to challenge all of us at times. My hope is to get all to realize just how important and special they are. I feel that it starts with our children; however, it is never too late. The younger the better, but no matter how young or old a person is, he or she can find confidence in who they are in Christ…who Christ says they are, not who the world says they are. My heart sings when I see someone celebrate their uniqueness and realize their life's Purpose.
We need to nurture our children and the traits and talents that they have been given… we'll call them gifts. Our unique gifts are what make us special. We aren't different on accident. God made us that way for a reason, a His Purpose… for His Plan. The Apostle Paul teaches in Romans 12:4-8 (NIV), that we were each created for a purpose with particular gifts. Every single one of us is important. We need to take faithful action within God's Purpose and in God's Timing. Let's guide our children and help them develop their God-given Gifts. 🙂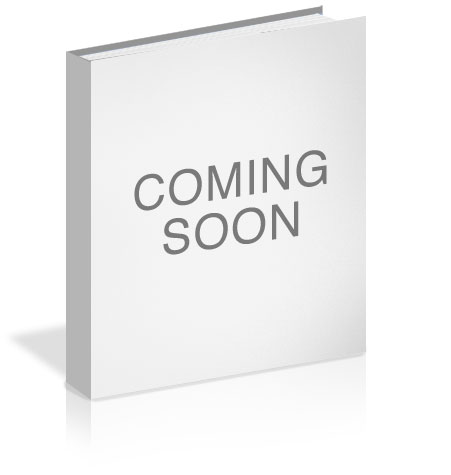 Coming Soon
Life Lessons from the Chapman Daily Adventures: "Two Wrongs Don't Make a Right"
In this fifth "Life Lesson," Daniel and Grace learn about forgiveness and what to do when someone behaves badly. They learn to forgive, bless, and act in Love, and they receive gifts of Peace and Joy, instead of getting that yucky feeling of unforgiveness.
BEHIND THE LESSON — Life Lessons from the Chapman Daily Adventures: "Two Wrongs Don't Make a Right"
Unforgiveness can be like a disease in our spirit, and forgiveness can be like the cure. Unforgiveness can slowly consume our ability to experience true love, joy, and hope, so wouldn't you agree that teaching our children about how to forgive and why is a very important lesson? The very best way to teach forgiveness is to model it, right? "Monkey see. Monkey do." It is definitely not, "Do as I say, not as I do." That doesn't work. After all, forgiveness is good for us, too, but what do we need to know about forgiveness? Forgiveness is offered to us freely through Christ. It simply needs to be received and accepted by each one of us, no matter what we may have done. When we sincerely repent and ask for forgiveness, we receive it.
We all have to understand that as "good" as we try to be, we, at one time or another, fall short. We may not even have realized it! When we accept Christ as our Savior, we are now in the family of Christ, which makes each one of us a Child of God. As a Child of God, we receive His Mercy, His Forgiveness. We cannot earn His Mercy and Forgiveness. All we need to do is truly receive it.
There are many scriptures that teach us about forgiveness. In Matthew 6:14-15 (NIV), Matthew reminds us that we need to forgive others, not just for their sake, but for our sake. If we don't forgive, we are forgetting or even denying that we have sinned and also need forgiveness. We need to forgive others, so that we can ask and receive forgiveness from our Heavenly Father. In Luke 6: 27-28 (AMP), we are taught to forgive and bless those that have hurt or offended us, and pray for them to be blessed with spiritual truth and revelation. In the meantime, when we do forgive, even though it may be difficult, we receive the peace, freedom, and forgiveness of our Heavenly Father allowing us to live our own lives as God intended us to live. We absolutely want to see our children fully experience what God has planned for them, right? There is nothing better than seeing our kids happy and living their Purpose. 🙂